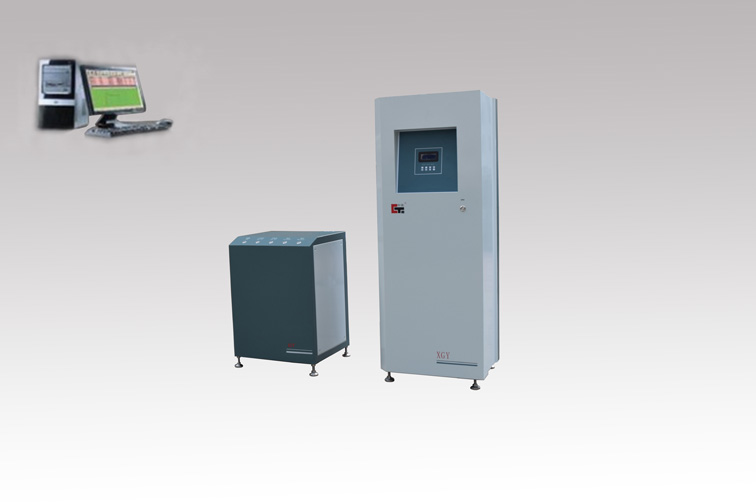 Hydrostatic Pressure Tester Use:
XGY plastic pipes hydrostatic pressure testing machine is used for the resistance to

internal pressure determination of the plastics pipes, fittings and valves, which are given

the same or different pressure with the constant temperature. It is necessary for the producers,

scientific research agency and quality-control institution to check and measure the performance of the test piece

It accords ISO9080, ISO1167, ASTM D1598, ASTM F1335

Hydrostatic Pressure Tester Main technical parameter:
| | | |
| --- | --- | --- |
| NO | Technical parameter | Specification |
| 1 | Pressurization range | 1-10Mpa,0.6-6Mpa, or 0.3-3Mpa |
| 2 | Constant pressure accuracy | <+2%、-1% |
| 3 | Resolution | 0.001Mpa |
| 4 | Timing range | 1min-10000h |
| 5 | Timing accuracy | <0.1% |
| 6 | Dimension of the test piece | Suitable for diameter Φ14-Φ800 mm |
| 7 | Standard station | 3 |
| 8 | Voltage and power | a.c. 220±10% 50Hz 3kW |
| 9 | Dimension | 600×650×1850mm Main frame |
| 10 | Weight | 250Kg |
Hydrostatic Pressure Tester Performance and feature:
1. Microprocessor controlled liquid crystal screen display and English interface. Record and prints the technical data of each station automatically.
2. Make several pressure-resistance tests for the different pressure at the same time, independent from each other, without interaction.
3. According to the concrete circumstance of the experimented pipes, set and revise the leakage-determined condition of the pipes in advance.
4. Due to various reasons (such as power cut), the test may be interrupted. How to continue the test or process data after the recovery, the machine can help set and revise in advance.
5. User can order pressure distribution(like 1-10Mpa、0.6-6Mpa、16Mpa) according to actual request
6. The valves were designed by our company; it avoids some defect from the conventional valves, like slow speed for pressurizing, Obvious pressure undulation etc. they are available for different test and different diameters of the pipes. The quality and performance is in the leading level in our country.
7. Bidirectional bearing pressure straight acting magnetic valves have stable performance.
8. We add special device to the pump to elongate its service life, leaving a buffering process when starting. And set low speed and high-speed operation
9. Can match PC. Professional software can monitor the test procedure, and it can draw test curve and print out the test result.
Need to work with Testing Tank and End Cap